Quantum 4 are:
Alessia Obino – voice
Filippo Vignato – trombone
Marco Ponchiroli – piano and keyboard
Pietro Valente – drums and Tibetan bowls
Entering The New Era (432 Hz music)
1. Album Concept
2. Features of Quantum 4
3. Musicians' CVs
4. What is 432 Hz tuning
5. Tunes Introduction
Album Concept
The album Entering The New Era is an opportunity for Pietro Valente to express musical ideas and to recount life experiences without hiding his deepest thoughts on spirituality and this time in history.
The work is divided into three thematic chapters by way of concentric expansion: the family, the world and the spirit (and the universe).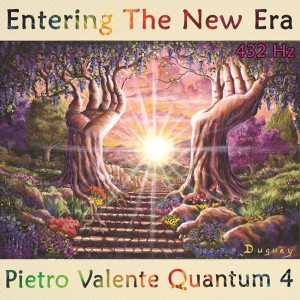 The tunes are:
1)oo=OO   2)Phoebe At Work   3)Buona Notte Alyssa
4)Transition   5)Natural Order   6)Omnicracy  7)Peace In The World
8)Journey Through The Realms   9)Dimensional Shift    10)100 Years Jump
11)Space Exploration   12)Low Gravity
  Music in this album became a powerful way to go beyond words diving deep to      express emotions and energies of this tough time in human history.
Features of Quantum 4

The group, Quantum 4 has several peculiarities;  the voice for example is used as an instrument, singing melodic lines without words. This choice is made to have the freedom to develop music that doesn't dependent on lyrics while hearing the sound of the human voice in the compositions. Another peculiarity is the absence of bass, normally present in this kind of line up. The goal was to evoke an ethereal and floating sound. The absence of bass also provided an incentive to search for alternatives, calling into question the role of instruments. This choice helped to find freshness and originality. One last important sound contribution was achieved by the use of Tibetan bowls. The bowls are assembled to create a 5 note scale (also in 432 Hz) so as to have a melodic instrument with a fascinating, embracing sound used for comping, thematic and solo parts.
Musicians' CVs
Pietro Valente – drums and Tibetan bowls
Pietro Valente was born in Padua (Italy) on April 29th 1982. He started to play drums at the age of 8 and when he was 15 he was already performing with rock bands in the city clubs.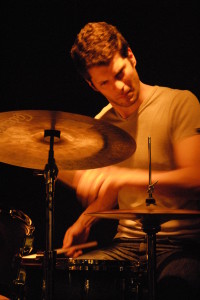 In 2001 he entered in Università della Musica di Roma and he graduated with best grades in 2006.
In the same year at Umbria Jazz Workshop he had been chosen as best drummer to perform at the 2006 Umbria Jazz Winter festival and few weeks later he was the only drummer who won the scholarship at Siena Jazz Clinics.
He performed in Europe, United States and Asia, in festivals such as: Umbria Jazz Winter, Taichung Jazz Festival, Kaushung Lantern Festival, Porsche Jazz Festival, Shanghai JZ Festival, International Music Meeting, Veneto jazz, Festival di Verdura, Vicenza jazz, Shenzhen Jazz, etc.
In 2007 he recorded three CDs with the top jazz musicians in Taiwan for the Better Music of Taipei, and the CD "Reflection" has won the "2009 GOLDEN MELODY AWARD" as "Best Instrumental Album".
In 2010 his first album as a leader "Tales from the Far East" was published by Freecom and produced by "Circolo Jazz Verona", an association who chose Pietro in 2009 as young Italian talent of the year.
In 2012 he presented his album in a 10 dates tour in China and Taiwan with an total audience of about 100.000 people.
In 2014 he released his new album Entering The New Era recorded in 432 Hz tuning with 12 tunes he composed and arranged.
Marco Ponchiroli – piano and keyboards
Marco Ponchiroli, eclectic Venetian artist, graduates with distinction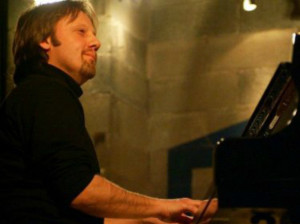 at the conservatory Benedetto Marcello in Venice. He immediately
gets involved in an investigation that will lead him to what can be
considered the result of the contamination of various musical genres
and different artistic experiences. Ponchiroli understands and plays
blues, pop and also reggae (he participates at 1997 San Remo Festival
with the Pitura Freska); throughout the years he cooperates in various
musical projects and composes the music for Giorgio Gaber's play "Il Grigio". In the mean time he maintains his burning passion for jazz, his first love and musical milestone, also playing with numerous noticeable artists, such as: Flavio Boltro, Massimo Manzi, Nicola Stilo, Robert Bonisolo, Ares Tavolazzi, David Boato, Saverio Tasca, Maurizio Caldura, Enzo Zirilli, Roberto Dani, Gigi Sella, Marco Castelli, Michel Marre, Marc Abrams, Claudio Roditi, Enrica Bacchia, John Riley. He tours South America with Fabrizio Bosso. He records several records, playing and arranging the music. His compositions are collected both in solo records (Fast Marghera, Warm up and Like you) and in splits with other artists.
Alessia Obino – voice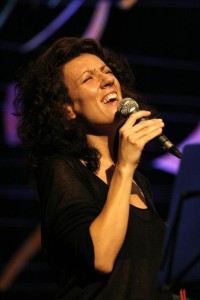 Singer, composer, versatile improviser, Alessia Obino was born in Bologna and moved for many years to Padova.With consolidated academic background, she has collaborated with many musicians in the Italian and International jazz scene, including Elliott Sharp, Markus Stockhausen, Javier Girotto, Peter Churchill, Gilad Atzmon, just to mention a few and featured in relevant events throughout Italy and abroad. In 2009 she recorded her first album as a leader, entitled Echoes, for the Italian label "Caligola", writing lyrics, compositions and arrangements. Recently she joined Astral Travel, Tommaso Cappellato's project, recording the album Cosm'ethic,
published by the prestigious English label Jazz re:freshed and presented officially in August 2013 at Mau Mau Bar in London.
After a long period of research embracing new challenges which allowed her to come up with a new artistic perspective, she is on the verge of accomplishing her follow up album.
Filippo Vignato – trombone
Born in Italy in 1987 and grown up in a musical family, begins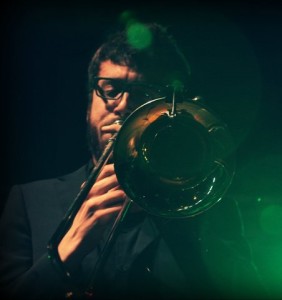 Trombone study at the age of 10. From age of 15 starts assimilating
jazz language by playing in local big bands and funk and soul bands.
In 2013 got his Master Degree in jazz trombone at 'Conservatorio
F. Venezze' , Rovigo (IT).
Thanks to a scholarship he spent one year between 2011 and 2012
in Amsterdam where he studied under the wise guide of Bert Boeren,
Bart Van LIer, Erik Van Lier and Martijn Soheim.
With his band OMIT FIVE, with whom he is constantly touring through Italy and Europe, got first prize as best band at Barga Jazz Contest 2011 and at Premio Delle Arti 2011 of MIUR. Also got the 'Best Soloist Prize' at the Barga Jazz Contest 2011.
Through the years he works and worked among the others with: Enzo Favata, Danilo Gallo, Giancarlo Schiaffini, UT Gandhi, Vinko Globokar, Giovanni Guidi, Dan Kinzelman, Glauco Venier, Roberto Spadoni, Marco Tamburini, Bruno Cesselli.
He played in several big bands and jazz orchestras, in projects featuring Dee Dee Bridgewater and Norma Winstone.
He played all over Italy and in Slovenia, Croatia, Serbia, Austria, Germany, France, Belgium, The Netherlands and Scotland.
What is 432 Hz tuning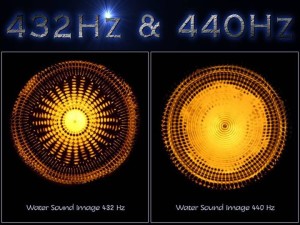 Entering The New Era has a feature that makes it one of a kind: the instruments are tuned with A at 432 Hz instead of 440 Hz. Recent studies show that 432 Hz music is more in harmony with human body vibration (but it was used also by great musicians of the past like Mozart and Verdi). One can find many sources and a lot of skepticism on the internet relating to this issue, there are also several books on the topic. Pietro Valente chose to record this album using the 432 Hz tuning albeit with added complications following his instinct because music with this tuning is clearly more pleasant and captivating to him.
In order to benefit from the broad range of 432 Hz tuned frequencies as well as the presence of stereo effects is recommended to listen the music on a good stereo or with headphones.
Entering The New Era (432 Hz): Tunes Introduction
THE FAMILY
oo=OO (432 Hz): (Watch the animation video of this spiritual and inspirational music in 432 Hz)
This tune was inspired by a look my daughter gave me when she was one year old, at that age babies are curious, they can't stop for a second but in that moment Alyssa looked me straight in the eyes and kept staring, it's like the time was stopped and our souls were melted together.
The title has actually a visual meaning: two small eyes looking at two big eyes, but also an infinite looking at an other infinite; the tune in fact is a thanks for this and other experiences which give me a glimpse about what I believe: we are infinite, each one of us is the universe itself with everything existing yet we are unique and distinct, unaware creators of our existence in every detail.
Phoebe At Work (432 Hz):
Phoebe is my wife, it's pretty unusual to dedicate to your woman a fast and sharp piece like this one but I wanted to express my admiration for her passion and tenacity at work, it's really a great source of inspiration. I'm a lucky man.
Buona Notte Alyssa (432 Hz):  (Watch the music video of this Ninna Nanna: Buona Notte Alyssa |432 Hz| with Dumbo Lullaby clip)
This is a lullaby I wrote for my daughter. Sometime I sing it before to put her to bed, she likes it and it really works! In this tune there are only voice and trombone with the tibetan bowls.
THE WORLD
Transition (432 Hz):
The tune describes the current historical period, a passage time from the old to the new era.
To represent this situation I composed two tunes and I superimposed them with a transition to move instruments from one tune to the other one at a time, in this way an in between part is produced where two very different tunes coexist with a considerable dissonance which is exactly what is going on in the world! The old paradigm gradually crumbles and the new one comes to light, chaotic but necessary times to reach the new era of peace and prosperity.
Natural Order (432 Hz):
Here the order and consequentiality of nature it's portrayed using the Fibonacci series to regulate the introduction of new musical elements. According this series of numbers it is supposed to be organized the living being evolution until the modern human which break the paradigm with an evolutionary jump to project it beyond the animal world completely.
Omnicracy (432 Hz):
This is an improvised tune with some simple basic rules to partially organize its development.
The concept of this piece represent what in my opinion it is the possible future government model, indeed Omnicracy is the government of everybody where decisions are taken together.
Peace In The World (432 Hz):
The Peace in the world it's something we will be witness in our life, the new era and the human's consciousness evolution will arrive achieving this goal. The tune have a lightness feeling and combine influences from different cultures. Actually something each one of us can do to help to get to the peace is to accept human diversity and to consider it an asset. Here solos (cello and voice) features the two women of the group and probably to have more women in power could be a way to favor the global peace.
THE SPIRIT AND THE UNIVERSE
Journey Through The Realms (432 Hz):
This is a demanding and elaborated tune which represent the path of the soul through the realms of existence: the suffering, the spectres, the animals, the humans till the superior dimensions. If you prefer: from the hell to the heaven passing through the stages in between. Prepare for a strong experience!
Dimensional Shift (432 Hz):
This tune is built with some rhythmical criterion to make every musician to improvise a solo with a specific subdivision: drums in quintuplets, piano in quadruplets, trombone in triplets and voice in duplets with relative pauses. This structure symbolizes the dimensional shift experience.
100 Years Jump (432 Hz):
In this tune we will make a time travel starting from the past to get to the present and proceed to the future with jumps of 100 years!
In questo brano viaggeremo nel tempo partendo dal passato per giungere al presente e procedere verso il futuro a salti di 100 anni!
Space Exploration (432 Hz):
Here we play in trio with trombone, piano and drums. It is a tough piece where our heroes jump in an adventurous space exploration starting from the deep space, getting to a cybernetic high-tech planet, then in a nuclear war devastated one, then in a planet where living beings of different cultures (rhythm-melodic figures) coexist in a perfect harmony and at last in an mining-industrial planet. Let's see if you can follow us in this space journey!
Low Gravity (432 Hz):
I performed this tune with body percussion, which is just with feet and hands hitting body parts, in the track there are also some effects to gradually alter the original sound. The goal is to represent life in a low gravity planet where physical conditions are different from the earth ones.